Digital press clippings – direct from publishers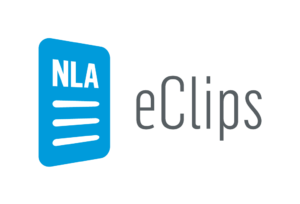 eClips content is taken directly from newspapers production systems and made available to media monitoring agencies as XML for local indexing, search and evaluation work.

Clients access articles as PDF files hosted by NLA media access. eClips delivers many benefits to media monitoring agencies including; higher quality, more relevant and more timely articles.

It also removes the need for scanning which takes time, costs money and leads to degradation in images. The service meets client demand for sharper images, comprehensive national (including News UK content), regional coverage and archive rights.
Options
PAYG
A basic service that allows an MMO to search the last 7 days of content
XML
Choose this service to receive the XML of clipped articles within minutes of publication.
IDS
Choose this service to receive both the XML and PDFs of clipped images.
Full Page
This service is very similar to eClips XML, however the content is not processed to article level. The MMO is provided the content in a similar way, but this constitutes the entire newspaper or magazine. The titles available on Full page (circa 1000) tend to be small regional titles.
Want to know more?
Media Monitoring organisations can get content as early as 23.00 the evening before publication. NLA aims to have the first editions of National content delivered by 01.00 on day of publication.
Media Monitoring organisations can send content to their clients after 04.00am on day of publication.
All service options give access to UK National Newspapers. Additionally, MMO's can choose to have access to a comprehensive range of UK regional and magazine titles.
Our standard access terms allow access to the content for 28 days. Some clients of Media Monitoring Organisations may choose to add the Extended Access option to their Licence which allows them to access content for up to 365 days after publication.
The Image Data Service (IDS) option enables delivery of clipped PDFs of articles, as well the corresponding XML files. MMO's who take this option can store and deliver the article to their clients directly, and only needs to authenticate the user with NLA to ensure they have a licence to access the content, and that it hasn't been restricted.
Because MMO's using this option have the article PDF's, they're able and to generate press books that combine NLA content with other content. IDS is the only option that allows for this combining of NLA and non-NLA content.
The XML service delivers via FTP the clipped articles in XML format. MMO's who take this option can load the XML into their own databases to enable their own searching and summarising of content.
MMO's using the XML option can generate hyperlinks using the NLA API to deliver to their clients, so that their clients can view the clipped article PDF.
The PAYG service enables access to search the eClips database for content published in the last 7 days.
The service automatically generates the links for MMO's to provide to their clients.